According to the January 2020 findings of the Yale Program on Climate Change Communication the majority of Americans (58%) are either "alarmed" or "concerned" about global warming. The "alarmed" segment of the population is at an all-time high (31%) having nearly tripled in size since October 2014. The main difference between being "concerned" and "alarmed" is one's willingness to take individual, consumer, and political action to address the global climate crisis. In the past two years, since the development of the OSC Climate Change Task Force, Old South has made some progress moving from being a "concerned" climate congregation to an "alarmed" congregation, but our goal – to bring everyone into the work of advocating on behalf of God's good earth – is still on the horizon. In an effort to re-frame our work the Climate Change Task Force is re-branding as the Climate Crisis Task Force. With this move we acknowledge the seriousness of the global climate crisis, and our commitment to engage everyone in the effort to address it.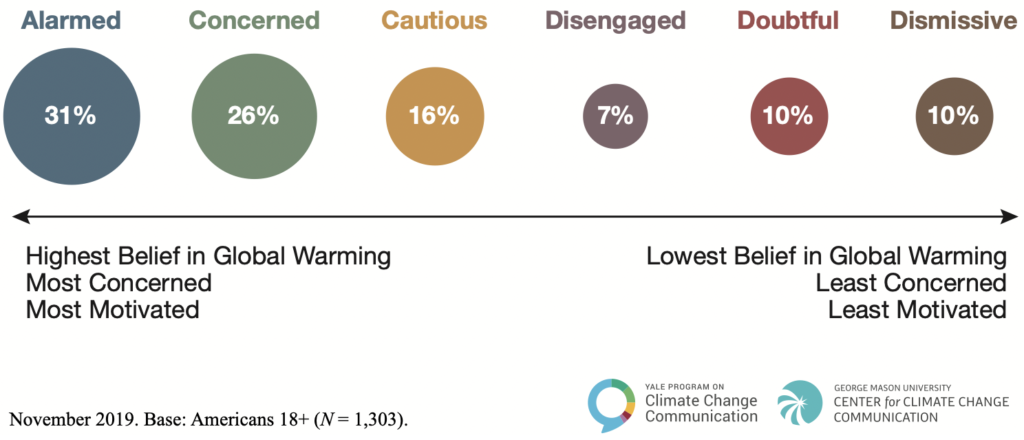 In the past three months we've come to see just how interconnected our world is, and how entangled the global Climate Crisis, Healthcare Crisis, and Racism Crisis are. As we stand up for Black Lives, we do so recognizing that communities of color are often those most disproportionately impacted by environmental factors like pollution, climate displacement and heat island effect. We know too that the Climate Crisis and rising temperatures allow for the increased proliferation of viruses and other negative health impacts. If we are to seriously address environmental racism and the dramatic impacts of climate on global health we must move from being merely concerned, and take action as alarmed climate activists.
Advocacy, Legislation and Leadership
The clock is winding down on the current MA Legislative Session. Despite broad consensus on the need to pass a climate bill in 2020, the House and Senate have so far not come to an agreement on what that bill will look like. Last summer (2019) the House passed Speaker Deleo's GreenWorks bill, which sought to use new bonding to pay for climate resiliency and municipal clean energy projects. In January (2020) the Senate passed S.2500, its sweeping Next Generation Climate bill. Neither chamber has taken substantial action on the other's bill. Meanwhile, the Meschino Roadmap bill has been getting attention in the House as another climate bill possibly favored by Speaker Deleo. The Senate and House have so far declined to vote on legislation to achieve 100% Renewable Energy legislation as well as a comprehensive gas safety bill (the FUTURE Act). A House originated carbon pricing bill (H.2810) and Environmental Justice bill (H.4264) still languish in committee. The deadline for committee-level action on most of these bills is July 22nd. Please consider writing to your legislators to encourage action on these important bills. You can sign a petition here, or find your legislator's contact info: https://malegislature.gov/search/findmylegislator. If you'd like more information about any of these bills please contact me (katherine@oldsouth.org)
Of course, one of the most important things you can do to help protect our natural resources, decrease our nation's dependence on fossil fuels and support green innovation is – to vote! In this election season we must each think about how we are living out our faith commitments at the polls. On August 9th the Climate Crisis Task Force, in partnership with other OSC groups, will host a Community Hour Forum on "the Faithful Vote," which will not only help inform the congregation about changes to how we can vote this year, but also encourage each congregation member to give prayerful consideration to legislation and leadership that can usher in positive change for our communities and nation.
Stuck at home? Time to get your house in order.
This time of quarantine and social distance has called on each of us to make changes to how we live our lives. It's a great time to evaluate your shopping practices, how you're using energy in your home, and ways you might reduce waste. Check out this article if you're looking for tips on 20 Eco-Friendly Things To Do During Quarantine.
One other thing you might consider is taking a look at your financial investments. Owning stocks is not just about making money. A core conviction of the American economic system is that ownership equals responsibility. When we invest, we are endorsing the actions of the company was support. In June of 2013, the Synod of the United Church of Christ became the first national body to vote to divest from fossil fuel companies. Old South Church's investment committee, through a very thoughtful and balanced approach, has moved more than 50% of our investments into SRI funds (See pages 49-52 of the 2019 Annual Report). Now is the time to speak with your financial advisor about investing in sustainability funds. Keep your money green; invest in the earth!
There are still so many ways to get involved with our Climate Crisis Task Force. Check out upcoming (virtual) events on our Climate Calendar. Practice Sustainability at home with our weekly Green Tips. Join our Climate Advocates and get updates about legislation and how you can take action. Learn more about composting, sustainable food practices, tapping into clean energy, and more on the OSC Climate Crisis Task Force webpage. It's going to take engagement from all of us to sound the alarm about the Climate Crisis, and to live into God's vision as stewards of the earth. If you'd like to get involved with the work of the Climate Crisis Task Force please email me at katherine@oldsouth.org.